Web Desk) – Sonu Nigam who, in his words, did not raise an issue with Azaan but with loudspeakers in mosques has shaved his head off on Wednesday and demanded a cleric to pay promised INR 1 million after he had passed a fatwa.
Aalim Hakim who styles some of the biggest names of B-Town including dapper Arjun Rampal and 'Half Girlfriend' actor Arjun Kapoor, was present at the press conference called by Nigam.
Hakim shaved singer's head off as Sonu got back at the West Bengal cleric for passing a 'misinformed' fatwa against him over Azaan controversy.
The cleric had announced INR 1 million reward for anyone who would shave Sonu's head off and put a garland of shoes around his neck supposedly to avenge his remarks over Azaan.
Gossip-mongers argued that shaving his head off would not get Sonu INR 1 million as the cleric had demanded to tie a garland of shoes around his neck as well.
Syed Sha Atef Ali Al Quaderi, the Kolkata-based cleric maintained the exact stance. "Sonu Nigam has not done all the things I asked for, two out of the three things remain unfulfilled. Will give reward of 10 lakh, only when he does rest two-garland of old torn shoes and tour around the country," he reacted.
---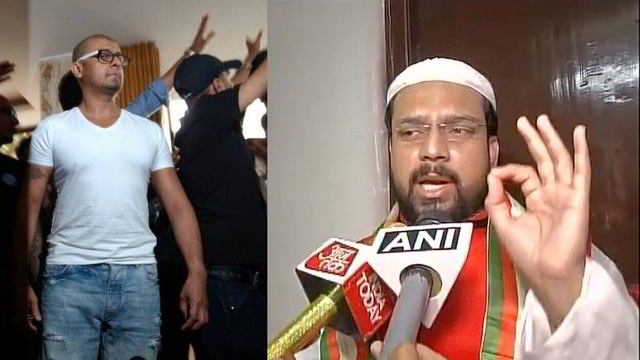 Courtesy dnaindia.com
---
Indian hardliners had objected to Sonu Nigam's statement on Monday that claimed of 'forced religiousness' in the society. He had raised his concerns over early morning Muslim call-to-prayer asserting that it was unnecessary in the present day, attracting both flak and admiration by different sections.
Sonu stated on Twitter today:
---
---
"I consider myself secular," the star singer told the press in the afternoon today. He said that he considers Mohammad Rafi his guru who was a Muslim and that he is not anti-Muslim in any way.
Sonu said that it was a social issue and not a religious one. People need to be considerate with each other, he added.
He was thrown a question over the use of loudspeakers in his concerts to which he replied that he conducts concerts in permissible time limits. "I believe loudspeakers are not a necessity in temples, masjids or gurdwaras," the singer reiterated his stance.
Keeping the furore aside, Sonu for sure made a strong statement today and we believe that was the entire goal of the shaving episode.