Rajesh Khanna's Ittefaq is getting a remake.
According to Indian Express, the film will be directed by Abhay Chopra and will be co-produced by Shah Rukh Khan and Karan Johar.
Shah Rukh Khan was expected to star in the film but backed out due to clashing dates. Says the Raees actor, "I wanted to do the film. I really wanted to do it when I heard the script. But I was doing other films. So, I couldn't. But the team, which is doing right now, is great."
The upcoming film stars Sonakshi Sinha, Sidharth Malhotra and Akshaye Khanna and the three are giving us intel for what to expect. With their first look posters, each character has a small tagline that lets us know what to expect from the film.
"I'm a victim who got accused of being a criminal! Don't you want to hear my story?!?" writes Sonakshi while sharing her poster.
Looks like Sidharth's character will be in the same boat as he shares, "I am accused of a crime I did not commit! Wait for my story."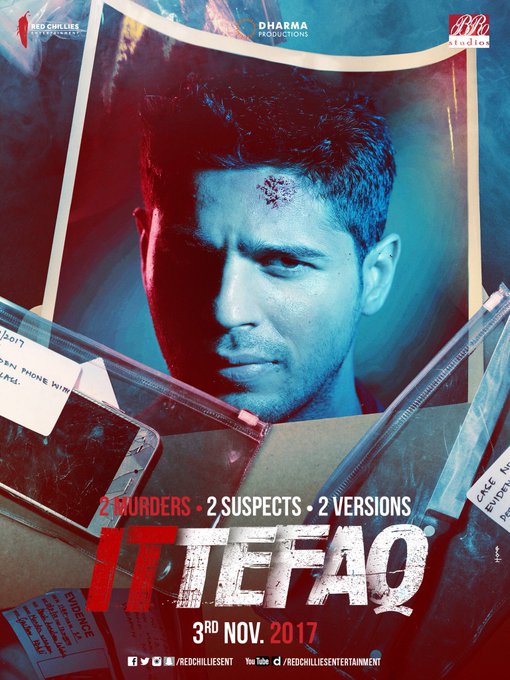 Karan Johar shared Akshaye's first look, describing the character as "He trusts no one and suspects everyone! He only settles for the truth."
SRK announced that the trailer will release tomorrow, dropping another hint: "Every crime has suspects and every suspect has a story!"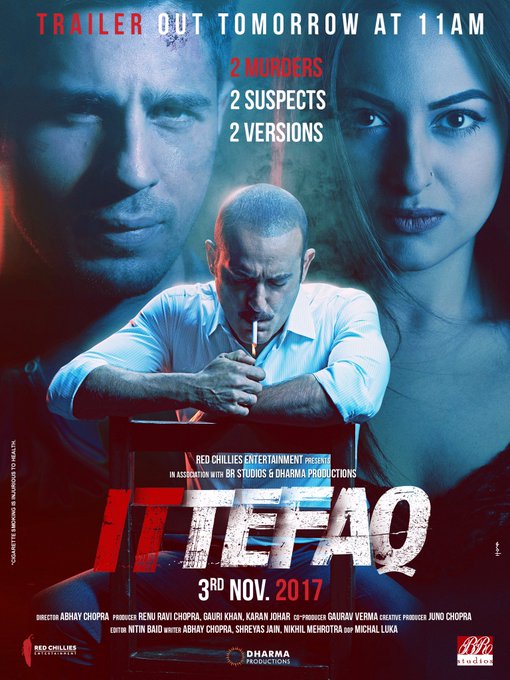 The tagline of the movie reads, "2 Murders 2 Suspects 2 Versions." Will there be a Rashomon vibe to this film? We hope so!
The film, although a remake, will be treated so as to suit the modern times.
Says Sonakshi about the film, "I have not seen the old Ittefaq. So for me, I am doing a new film. And I am sure a lot of people from our generation have not seen the original Ittefaq either. The way film is rewritten and adapted to fit in today's scenario and time makes it a fresh film. I am looking at it as a new film."
Ittefaq is slated to release November 3rd.